Fresher's Selection drive for TOP TIER 1 IT MNC Company for 2016 passed outs - Pune
Wednesday, 18 January 2017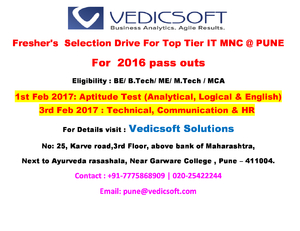 Contacts

vikram

7775868909
Item description

Greetings from Vedicsoft (Formerly known as Uclid IT)!

We are pleased to inform you that Fresher's Selection drive (under "Train & Hire Model") for TOP TIER 1 IT MNC Company for 2016 passed outs. Registration is mandatory to participate in these selection drives. There are no charges for registration. Visit "Vedicsoft" office for Pre - screening test to register for the interview process.

Job Role : Engineer Trainee
Job Location : Anywhere in India
CTC : 3.38 LPA

Eligibility Criteria (Mandatory):
•2016 batch pass outs in BE/ B.Tech/ ME/ M.Tech / MCA - All streams except(CIVIL & bio-related courses, MSc - IT/CS, 5 years Integrated courses)
•Only IT, CS, EEE, E&TC & MECHANICAL streams are eligible.
•Minimum 10+2+4 years of education (Full Time)
•First class (60% and above) in 10th, 12th, UG and PG (Full time / Regular courses).
•In Diploma, UG & PG, aggregate of all semesters should be 60% and above.
•Continuous education - More than two Years gap is not allowed between education careers.
•Excellent communication skills & Willing to work in 24/7 Shifts & any location in India
•Age limit is 25 years.
•Should be an Indian National.
Note:
1) Final semester mark sheet is mandatory for B.E/B.Tech/M.E/M.Tech/MCA pass outs.
2) Final year percentage is not considered for Diploma/ BE/ B.Tech/ ME/ M.Tech / MCA.
3) Aggregate of all the semesters should be considered and aggregate should be >= 60%.
4) 2016 pass outs are only eligible for the drive.

If you fulfil the above mentioned criteria visit our office with the below documents for Pre Screening, orientation and registration process at our office.

Documents required for Registration process
Should bring all the below Xerox copies of Educational certificates
•10th, 12th / Diploma(all semester mark sheets & diploma certificate)
•B.E/B.Tech/M.E/M.Tech/MCA Consolidated marks Memo(CMM) or all Semester Wise mark sheets
•B.E/B.Tech/M.E/M.Tech/MCA Provisional Certificate (PC)
•Any Govt. Photo/Address ID proof
•Updated CV - 2 no's with University registration number
•Passport size Photographs - 2 no's
•Course Completion Certificate or Custodian Certificate or pass Certificate will not be accepted.
Registrations process at the below mentioned Venue between 10.00 am to 5.00 pm on or before 31st January 2017
Sunday is a Holiday).

Venue:
Vedicsoft Solutions India Pvt Ltd,
25, Karve Road, 3rd Floor, Above Bank of Maharashtra,
Next to Ayurveda Rasashala, Near Garware College.
Pune, Maharashtra.
PH: +91-7775868909 / 020-25422244
E-mail: pune@vedicsoft.com

01st Feb 2017 : Aptitude Test
03rd Feb 2017: Technical, Communication & HR

You can refer / forward this opportunity to any of your friends or any one you know who might be eligible. Details on the process would be shared during the Pre Screening orientation.

Visit For Updates:
httpswww.facebook.com/Vedicsoft-Solutions-India-PvtLtd-Pune-758800394246552/

Thanks & Regards,
Placement Cell.

Disclaimer:
Our Client does not entertain payments of any kind from candidates or vendors for employment. Requests for such payments should be promptly reported to us ASAP. If you encounter anyone who claims to offer jobs at any organization in return for any benefit (monetary or non-monetary), please do not entertain them. Please be informed that our client shall not be held responsible for any such instances or payments you make.